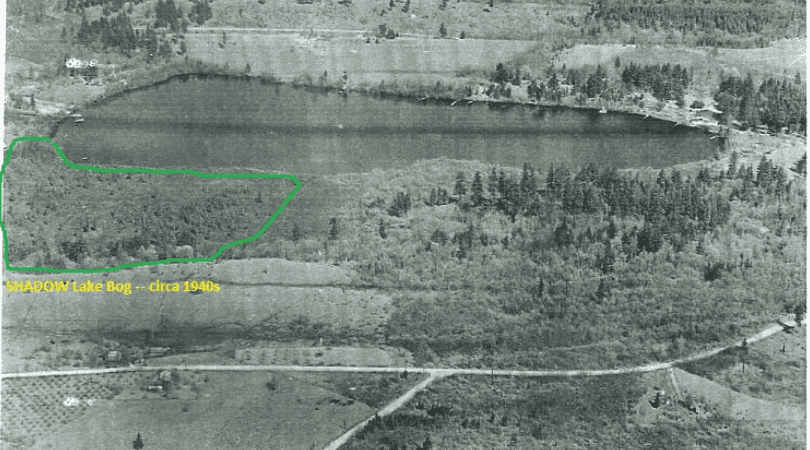 1940s photo of Shadow Lake, which was known at the time as Spoon Lake. 
SHADOW Lake Nature Preserve was founded by two people: Max and Erin. Max grew up in LA and the learned the importance of access to green spaces on weekend trips to his family's cabin. Erin grew up here, in rural, Southeast King County, and has witnessed this area change immensely.
It didn't take long for Max and Erin to realize that the abandoned lot next door to their house was home to a rare and beautiful wetland, Shadow Lake Bog. Experts informed the couple that this ecosystem had been forming since the last ice age.
The lot containing Shadow Lake Bog had historically been an illegal dump site and was marked with a red tag. Max and Erin believed in individual responsibility to the environment and that they couldn't wait for the government to fix this problem. So they decided to invest in these beliefs. In 1995, they bought the 18-acre parcel of land containing Shadow Lake Bog.
 

Erin, and an early SHADOW Volunteer in 1995.

 

Volunteer crews removing garbage from the site.
Local community members showed up to help. Together they removed 110 dump truck loads of trash from the site and began planting native plants to restore the ecosystem for wildlife.  
Max and Erin understood that a bog that had been forming for the last 8,000 years, would need more than just them to protect it. In 1999, they formed the nonprofit Save Habitat And Diversity Of Wetlands (SHADOW) in order to strengthen the community around Shadow Lake Bog and educate younger generations about the importance of wetlands.   
Since then, SHADOW has changed and grown. From Eagle Scout projects to bridges, we've had the pleasure of purchasing more land to preserve and host environmental enthusiasts. Here are only some of our milestones throughout the years:
2000: Eagle Scout bench construction
2005: Amphibian pond platform created
2007: Benches on Boardwalk trail created
2011: Bridge to Woods Trail constructed
2018: Natural Heritage Advisory Council voted to include the Shadow Lake bog in the Washington Register of Natural Areas
2019: Over 1,000 trees planted in spring and 3,000 square feet of Himalayan blackberry thickets removed for Uplands Restoration Project
2022: Strategic Plan created for 2022 – 2025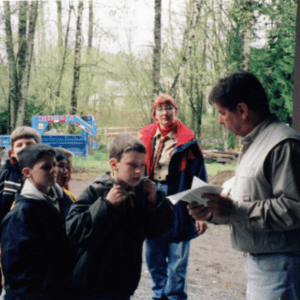 Erin and Max with some of the first groups of students to visit Shadow Lake Bog, in 2000.
Today, the nonprofit known as SHADOW Lake Nature Preserve stewards 109 acres of permanently protected in land in Southeast King County. The Nature Preserve continues to be supported by community stewards, who believe that land protection is important.
Our work is not done. As green spaces in King County disappear, it is now more important than ever for individual people to
invest in the environment.
If you don't want to wait for government to fix the problem, then join us in Preserving land, today!