A raindrop falls in Howard Hanson dam. A raindrop falls in downtown Kent. Raindrops splatter across a Nature Preserve in Renton. How is it that all these raindrops - scattered across a diverse landscape - all make their  way out into the Puget Sound?
That is the magic of a watershed.
All of a watershed is connected through a common drainage outflow. Just like every drop of water in a tub escapes down the drain, precipitation in a watershed funnels to a single point.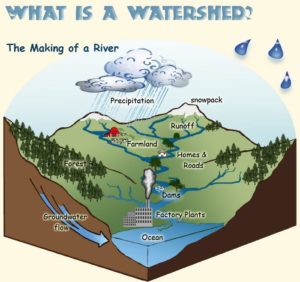 SHADOW's property is in the Green – Duwamish watershed. This watershed centers around a single river, the Green River flows from the Cascade Mountains and changes its name to the Duwamish around 12 miles from Puget Sound.  This river has a rich history of providing essential resources and functions for the humans, plants, and  animals of South King County.
The Green-Duwamish watershed has undergone some drastic changes during  the short time that European settlers have lived in this area. In 1906 a massive flood in Auburn, disconnected the River from Lake Washington and reduced river connectivity throughout the area.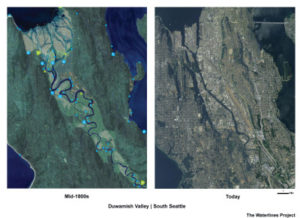 Beginning in the early 20th Century, over 20 million cubic yards of sand and mud were used to straighten the river. This benefited industrialization in the area, but sorely hurt the natural resources of the river.
Today, the Green-Duwamish River needs our care. The mouth of the waterway has been densely industrialized, and the river was named a super-fund clean up site - targeted for heavy-duty restoration efforts.
The diverse communities living around the mouth of the Duwamish have  strong traditions of fishing and recreating on the river. Today, all fish and shellfish living in this system are considered unfit for human consumption, due to the high levels of industrial contaminants. In fact, animal residents in the Green-Duwamish River have toxin levels up to 110 times higher than their neighbors in the Puget Sound.
Community groups along the river are now working to measure the cumulative health impacts of industrialization of this area, and collaborating with lawyers from the EPA, to finance restoration efforts.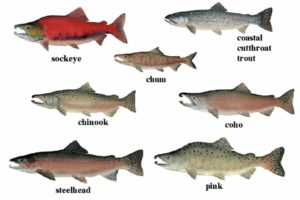 The Green-Duwamish is far from lost! Salmon species still run in the river and its tributaries, including – Chinook, Chum, and Coho. The river is also home to elk, osprey, the great blue heron, and other wildlife species.
The important thing to remember is that, despite all of the changes that the Green-Duwamish River has experienced, it remains a part of a watershed. Watersheds are highly interconnected and every effort helps! When you attend a restoration work party at SHADOW Lake Nature Preserve, pick up trash in South Seattle, or even just remember to pick up after your dog, you are contributing to the health of the whole watershed.
The rain that falls throughout this region ties us all tightly together. As long as rain falls, it will carry all of our contributions (both good and bad) into the river and out to the Puget Sound.
Want to learn more?
The Duwamish River Cleanup Coalition
Seattle Times: Why the EPA's plan is the best way forward for the Duwamish River