Spring has most certainly sprung at SHADOW Lake Nature Preserve and our staff cannot get enough of the beautiful wildflowers that are popping up all over the grounds. In fact, there are so many exquisite, perennial native plants in bloom at the moment that we have chosen to feature three of our favorites instead of just one.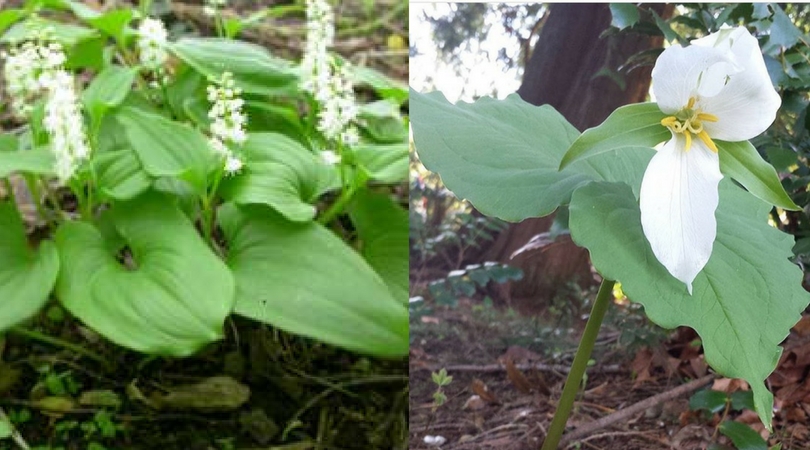 False Lily-of-the-Valley and Trillium flowers
Western Trillium (Trillium ovatum) – This is the plant that comes in threes, with three large, heart-shaped leaves framing a three-pedaled white or purple flower and three sepals. Trillium, which grow as single erect plants, stand out dramatically within the forest setting. Perhaps this is because their seeds are dispersed by ants, who enjoy eating the oil-rich appendage that grows from their pods. Trillium have been in bloom for the last few weeks and often bloom with a bright white flower, which turns purple as time passes.
Pacific Bleeding Heart (Dicentra formosa) – This northwest native has intricately cut green leaves that look almost like lace. It's flower is shaped like a drooping heart (hence the common name) and stands out in the forest due to its elegant pinkish-purple color. Bleeding hearts provide valuable nectar to humming birds and butterfly larva. SHADOW's bleeding hearts are just starting to bloom as we write this newsletter.
False Lily-of-the-Valley (Maianthemum dilataum) – Lovers of shady woods and moist soil, this perennial flower has become a dominant ground cover at the Nature Preserve over the past month. Although there are no sign of them yet, these plants will bloom with delicately clustered white flowers and small brownish-red berries that provide valuable forage for wildlife. These false lily's also have a strong ethnobotanic history as they were used by indigenous peoples as both food and medicine.