Skunk Cabbage, Lysichiton americanus 
There is a variety of life emerging in the Nature Preserve in spring: oso berry, nettles, bleeding heart, and even some horsetail. There is one plant that is stealing the show this month: Skunk Cabbage. 
The smell is the first thing that will alert you to its presence out on the boardwalk. The odor is reflective of its name with a distinct skunk tinge that attracts beetles for pollination. If you follow the pungent odor, you will be rewarded with a bright yellow leaf. You might think that the gorgeous yellow leaf and seed spike is the flower of the Skunk Cabbage, but its flower is only the center spike. The yellow outer cover is a yellow leaf! This type of leaf is called a bract– this ancient adaptation existed before flowers had petals. Other commonly known plants with bracts are Dogwood and Pineapple.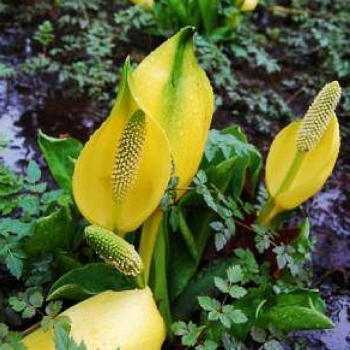 Wetlands and open swamps provide the best habitat for the Skunk Cabbage and it rarely flowers in the shade. Also known as swamp lanterns, these plants are a clear indication of moist soil. The leaves are water repellent and can be used for wax paper and containers for food.  
Want more knowledge? Follow the links below!
Washington Native Plant Society