If you've ever hiked beneath a living arch that bends over the trail, odds are you have spotted one of the most beautiful Washington shrub species – the vine maple. This relative of the big leaved maple happily grows in the dense, shady understory of coniferous forests. As it grows its limbs twist, searching for light.  
The arch shape is characteristic of the vine maple. Wherever the plant touches the ground, new roots will sprout, anchoring it. This allows it to layer over other plants (and even itself) in its quest for light!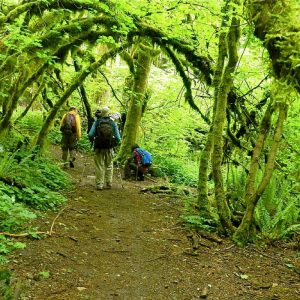 In fall, the vine maple is truly a stunner! With bold reds, oranges, and golds, this shrub lights up the trails of the Nature Preserve. This dizzying display of colors reveals that the vine maple is closely related to East Asian maples, like the famous Fullmoon Maple.  
Want to learn more about this topic?